Hernia Surgery
Laparoscopic Hernia Repair or Keyhole Hernia Surgery
Keyhole hernia surgery has evolved over the last decade.
Advantages of keyhole TAPP hernia repair over an open operation
Keyhole surgery means there is generally
Less post-operative pain
Smaller incisions and faster Recovery.
No further incisions required for patients with hernias in both groins (bi-lateral hernia).
Ideal method for patients with recurrent hernias after previous surgery
Early discharge from hospital - either same day or next day after surgery.
Very early return to work. Often within 3 days for office workers and around 1 to 2 weeks for manual workers. This should be discussed with your surgeon.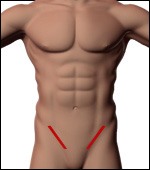 Incisions for open hernia repair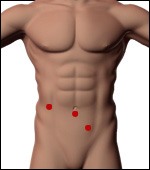 Incisions in keyhole TAPP right inguinal Hernia Repair
Disadvantages over open operation
General Anaesthetic is always necessary.
Patients with very large hernias or previous lower abdominal surgery may not be suitable.